Add A No-Cost Additional Revenue Stream To Your Business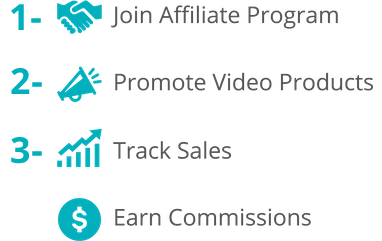 Since 1986, Your Video Spokesperson located in Philadelphia PA, has been a leading Video Production company. And now, the timing couldn't be better to team up with us as the need for online video services is booming and we're looking for partners who want to benefit from this trend! 
In 2016 Forbes Magazine writes: "Videos are now an expected component of any website." In 2017 Facebook CEO Mark Zuckerberg states online video is the next "mega trend." Digital Video Ad Spend Will Spike 30% In 2018 to over 27 billion – MediaPost.com article.
Join us in offering our video production & marketing services to the massive, virtually untapped market of more than 100 million websites & social media pages in the United States and beyond. If you have a method for reaching business owners & managers or marketing & advertising professionals, then let's work together in creating an affiliate relationship that benefits all.
Sign up for free in our affiliate program today and share with us in the next big internet marketing product- VIDEO!
You simply refer your leads to us, and we communicate directly with your referrals to sell our video services and then pay you a lifetime commission on all sales.
You can use your exclusive referral link on banners, social media, blogs, and email marketing to send traffic to our site and get paid 25% on all sales.
REFER ONCE & GET PAID FOR A LIFETIME
Sell full-service white-labeled Video Production services under your brand! We become your behind the scenes video production team and you get a full 25% discount.
We do all of the work but, you get the credit. You set the price, bill your clients directly, and you own the relationship with the client.
GET AN EASY NO-COST ADDITIONAL REVENUE STREAM
25% commission on every sale with Lifetime Commissions – Refer a customer once and get paid for all additional orders, year after year.
 Earn $275 per video – Our 1 minute video sells for $1,095 and you earn 25% selling a unique, profitable digital service with easy online ordering.
 Full 6-month Cookie duration – get paid for ALL of your traffic.
Dedicated Affiliate Marketing Manager – speak directly to us – we're committed to your success. 
 800-778-0455 – toll-free support 9 hours a day. 
Eye-catching marketing materials – use our direct-link dynamic banners and marketing videos to help drive traffic. 
High-converting ads & landing pages – customized to help you bring more traffic and convert sales. 
 Trusted company since 1986 – A+ BBB rating
A 100% white-label site at YourBusinessVideos.com – where you can safely send your clients & video prospects to see samples and learn about pricing. This site has NO contact info or any mention of our company name and instructs the visitor to refer to your company to place an order. 
 A massive untapped market – Social Media Week reports: "Video is a top priority for 2018 and has now officially passed all other types of content, stating 85 percent of businesses would like to create more video content as compared to 68% for images and only 57% for text content." – With less than 5% of businesses having a professional marketing video on their website, Facebook, or YouTube page, the opportunity for new sales growth is enormous! 
Grow your business – add a no-cost, no-hassle additional revenue stream to your business while keeping your clients happy by offering them much needed video production services. Isn't that what they call a Win-Win 😉
Have Questions? Lets Talk.
Schedule a conference call at your convenience
* We respect your privacy and never share your company information.
A few clients we've had the pleasure of working with:
Video Marketing is the Next Big Thing
April 2016 – Forbes Magazine writes: "Video marketing is the next big thing in business. In fact, it's not the next big thing in business because that implies it's coming. It's here right now, and there's no getting away from it. If you haven't started to build your video marketing strategy, the chances are you are falling behind your competitors."
Online video ad spending will reach 5 billion in 2016 – emarketer.com
"Studies have shown that the right spokesperson can create a high degree of emotional connection, breakthrough, and customer motivation for the business product or services." – Nielsen
"87% of online marketers use video content" – Outbrain
"Video ads make up 35% of total online ad spending." – Break Media
"Web pages with video lead to 800% more sales or client conversion." – FunnelScience
"Video ads increase purchase intent by 97% and brand association by 139%" – Unruly
JOIN US TODAY
and

START EARNING

your share